WHY DO I HAVE TO PAY FOR A "FREE" VIDEO?
You don't. You can watch the entire video online! You can also download a free copy!
Alternatively, you can get a physical DVD sent to you, and that costs a few dollars. Originally, I intended to offer physical copies of this DVD completely free too; after all, it only costs me about $3.00 to make a disc. Then, a friend said, "What if it becomes popular and you get 1000 orders on the website? Can you afford $3,000.00 to make 1000 videos, plus the expense of packing and shipping them all?"
. . . Ouch. That's a good point. No. Can't possibly afford that.
So, I got a better idea.
I'll still share free copies of the DVD at skateparks and skateshops and skatecamps. You can still copy the DVD and give unlimited free copies away. You can also download a free copy.
However, when you order a physical DVD, since I can't afford to give away endless $3.00 copies to everyone online, I use Amazon.com to handle manufacturing, printing, packaging, and shipping and they charge a couple bucks.
Fair enough?
This way, I don't profit from these videos, but I won't go broke!
Remember, you may download a free copy and YOU ARE ALLOWED TO MAKE UNLIMITED DUPLICATES OF THE DVD! You may not sell them; that's illegal. But, you may give them away for free. So, if you and your friends want a bunch of copies, purchase just one, then replicate it for each other!
THIS DVD IS TOTALLY FREE TO COPY?
Yep. That's right. Keep it. It's yours. We created this educational DVD as a free gift to the skateboarding community. You're even allowed to make as many non-profit copies of it that you want . . . Yes, you read that correctly. You are encouraged to endlessly duplicate this DVD, over and over, and give free copies away!
WHAT IS ON THIS DVD?
Filmed entirely in California, the birthplace of skateboarding, this DVD is the definitive benchmark for instructional skate videos. Featuring the Top Professional Bowl Skater in the World, Miss Holly Lyons, it showcases the most detailed guidelines ever assembled about the essentials of skateboarding. For 110-minutes, this DVD teaches the BASICS OF RIDING, explains the GEOGRAPHY OF SKATEPARKS, and covers BUYING & ASSEMBLING A SKATEBOARD, with greater depth than any video ever made. Nothing you can buy comes close to this.
IF THIS DVD IS SO GREAT, WHY IS IT FREE?
Skateboarding isn't about making money . . . it's about having fun! This video is free to copy, because we want to share the fun of skateboarding with everyone. From 8 year old kids to 48 year old parents (who mistakenly think they are too "old" to begin skating) we want this video to prove - YOU CAN LEARN IT TOO!
IS THE VIDEO HARD FOR KIDS TO UNDERSTAND?
No. It's very detailed, so it might get boring for people who aren't into skateboarding. For those who really love to learn, it's quite refreshing. Read the tesimonials to the right. Two sets of parents said their 6 and 7 year olds "love the video" and "it was easy for them to understand and fun to watch" and it was "helping" them. Another parent said the video was "too technical" for their 6 year old. All kids are different - just like adults. Some will love it. Some will be confused or bored.
The intended audience of this video is not "little kids" but rather "people who want to learn about skateboarding." If that person happens to be a little kid, great! However, it's not a "kids video" by any means. It's geared towards people of every age who truly want to learn about numerous aspects of skating. Kids. Teens. Adults. Parents. Grandparents. Everyone.
ARE THE TESTIMONIALS REAL?
Yes. They are from real people who have actually emailed the site with their compliments. I didn't make them up. If I were inventing fake testimonials, I'd have written a lot more of them!
WHY IS YOUR LOGO LIKE INDIANA JONES LETTERING?
Because skateboarding is always an adventure, kid.
CAN I DOWNLOAD THE DVD?
Yes! You can download the DVD for free! Click here for instructions.
Please note YOU MUST HAVE DSL OR CABLE OR SOMETHING EVEN FASTER as your Internet connection! If you have dial-up, it will literally take days to download and simply won't work. You will also want at least 10GB of available free space on your hard drive to download and uncompress the files.
CAN YOU ANSWER A QUESTION ABOUT MY DVD ORDER?
As I mentioned earlier, I use Amazon.com to handle manufacturing and shipping of any online orders. I receive no information regarding your order. I never have your address or credit card information or anything - it all goes to Amazon.com. So, if you have any issues or questions, please contact customer service for Amazon.com or check the help pages on their website. You can reach them here:
Amazon.com Customer Service
ARE THERE OTHER FREE INSTRUCTIONAL SKATE VIDEOS?
To our knowledge, no. No one else has ever done this before. Others have done similar things, but not exactly like us.
For example, skateboarder Alex White made a skate video in 2005 she was selling at cost, about her local scene in Monterey. We're not sure where you can get a copy, but as far as we know, she never gave it away for free.
Two months after our video was released, in October of 2007, Osiris premiered "Feed The Need" which is a free skate video, but not an instructional video. To our knowledge, Osiris never promoted "Feed The Need" as a DVD to be copied either. We're the first.
Shortly after Osiris released their video, Independent began releasing segments of "Independent Northwest 2007 Tour" - a video you can download off their website and make your own DVD from. Just like "Feed The Need", it's a marketing and promotional video though, not an instructional one.
WHAT OTHER INSTRUCTIONAL VIDEOS DO YOU RECOMMEND?
Watch our video first. Seriously. We researched several "beginner videos" before creating this project and none provide our level of detail regarding the fundamentals. That is why we made this in the first place. We wanted to tell you everything the other guys leave out!
After you watch our DVD, the video we most highly recommend is the excellent Trick Tips series by Tony Hawk. The series has 3 videos and they are all really good and get progressively more advanced. Tony also keeps everything fun and entertaining - which is what skating should be!
If you want a fun and inspirational video, no skateboarder should be without The Search For Animal Chin(1987) from Powell-Peralta, directed by Stacy Peralta. It remains the best skate video anyone has ever created. Period. (Needs more pools and bowls, but we love it anyway.)
Stacy Peralta also directed Dogtown & Z-Boys(2001), which is an essential documentary film for all skaters to become educated about the roots of skateboarding. Don't confuse Stacy Peralta's documentary with the fictionalized film of the same story, Lords Of Dogtown(2005), directed by Catherine Hardwicke. Watch them all. Become educated about your history and forefathers, kids. Know where you came from. Learn stylish berts, holmes.
WHY ISN'T THERE SKATING OF ERIC "TUMA" BRITTON?
A professional skateboarder for Santa Monica Airlines, Tuma kindly agreed to be interviewed for this video. Unfortunately, the video shows no footage of him skateboarding. The reason being, we interviewed 3 additional people that day, intending to collect skate footage of everyone after the interviews were complete. Regretably, Tuma had to split before we finished said interviews, therefore we never acquired clips of him skating.
DOES THIS VIDEO TEACH TRICKS?
Many so-called "beginners" skateboarding videos teach tricks. That is a horrible way to be introduced to skateboarding, because it skips all the groundwork.
Why do other videos do that? We have no idea. Maybe they are trying to make money off trendy kids eager to learn "cool tricks", but don't care about being skateboarders. Maybe some professional skaters are so talented and skilled, they forget how difficult it can be for a beginner to just keep their balance!
Our video is designed for true beginners stepping on a skateboard for the first time or making their first trip to a skatepark. This is the video to study before learning tricks. Beginners need experience with pushing, stance, keeping their balance, turning, components that build a skateboard, the layout of skateparks and terminology. True basics. This video teaches all those basics and more, including fundamental skatepark skills and etiquette.
WHAT KIND OF SKATEBOARD SHOULD I BUY?

Stop in your local skateshop and they can help you find the best board for you.
Whatever you do, NEVER buy a skateboard from a "sporting goods department" at some big chain store. Those boards are terrible quality and dangerous to ride. Go to a real skateboard shop! Yes, you will spend $100 to $120 for a quality skateboard instead of $40 to $60 for a piece of junk, but your safety is worth the extra $50. Buy a real skateboard!
Another option? Not only did Eric make this video, he also sells a line of skateboards called California Girls Skateboards.
They are fantastic quality and every single model of board is available in your choice of 8 different sizes, so you're sure to find one which suits your needs. Watch the Learn To Ride A Skateboard video, to discover which board might work for you. Then, go to California Girls Skateboards and pick up one of the boards which are available.
IN THE VIDEO, DID YOU EXPLAIN "WHEELBASE" WRONG?
No. Skateboards have a unique way of measuring wheelbase. Just about every other vehicle measures wheelbase as the distance from axle-to-axle. Cars. Bicycles. You name it. Not so with skateboards. The wheelbase of skateboards is measured as the distance between the inner mounting holes - NOT from the center of the axles. People often make the mistake of measuring skateboard wheelbase from the axles - we've even seen skateshop websites explain it incorrectly.
Why is it different with skateboards? Because the geometery of different brands of trucks will cause the axles to be spaced differently on the exact same deck - so, it's impossible to give an accurate axle-to-axle wheelbase measurement, because both the deck and the trucks will cause that measurement to vary. Therefore, to remain consistent, skateboards calculate their wheelbase between the innermost mounting holes, NOT the axles.
CAN YOU EXPLAIN PUMPING A TRANSITION AGAIN?
Okay. We explain how to pump a transition on the DVD. If you watched the video and you still want some details, here, check out this illustration and see if that helps you understand the concept of the timing better.
HAS ERIC MUSS-BARNES REALLY SKATED SINCE 1987?
Yes, on and off. I'd be lying if I said it was continuous. I'd skate a year or two, take a break, then start a few years later. 16 years of my skateboarding was in Ohio (where we mourned the absence of bowls and pools) and the other years have been in California.
WHAT IS THE LEARNING CURVE OF SKATEBOADING?
Typically, the learning curve goes a little something like this chart: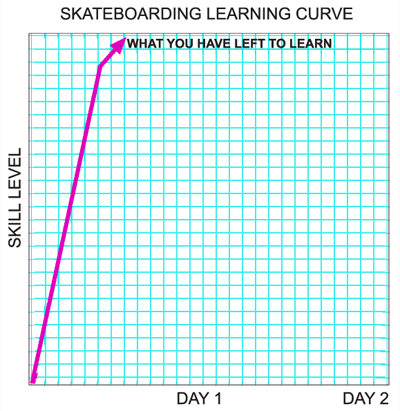 Naturally, that chart is a little tongue-in-cheek, but the spirit of it is very accurate. Skateboarding is not easy to learn. It takes a lot of time and dedication to become good. Most people will experience a huge learning curve in the first few hours of skating. They will be able to keep their balance and maybe do some wobbly turns. They will feel like they have learned a lot. That is wonderful and we encourage you to keep practicing. Just don't forget, that despite your initial progress, you typically have far more to learn that you realize.

WHERE WAS THE VIDEO SHOT?

Valley Park Skatepark in Burbank, California. The Cove Skatepark in Santa Monica, California. Glendale Skatepark in Glendale, California. Pedlow Skatepark in Encino, California. The flatland skating was done in Venice, California beside the Ocean Front Walk, a couple hundred feet north of Ocean Park Boulevard (former location of the historic P.O.P.). Security kicked us out of the Burbank Town Center Mall.

Click here to download a .KMZ file of all our locations to use in Google Earth.

WHERE CAN I FIND LAWS ON SKATEBOARDING?

Do some research on the Internet, if you need to know your local laws regarding skateboarding. City laws are often called the "municipal code" and are usually available online for major cities.

If you live in Los Angeles, Burbank, Glendale, or Santa Monica, California, we already did the work for you - just click here and view this webpage of skateboarding laws in Southern California.

WHAT IS A GOOD AGE TO START SKATING?

Any age is fine. The youngest skater I've ever seen was 2 years old. He could barely ride, but he actually could push the board and roll a foot or two.

The youngest good skater I've known was 4 years old. He rides skateparks better than kids triple his age.

Professional skateboarder Mandy Esch once told me she was teaching a 3 year old in her skate clinics. I heard of one 32 year old woman who began skating without having done any boardsports in her life. I have skated with a guy at Venice who began skateboarding on his 46th birthday - had never stepped on a skateboard before in his life. He's getting pretty good too.

California has numerous amazing skaters over the age of 50 (like the legendary Tony Alva). I even rode with one skater, Don Hamilton, who was celebrating his 51st birthday at the skatepark. (And he skates WAY better than most of the teenage kids.) There is also a gentleman named Lloyd Kahn who began skateboarding at the age of 65 - he even has a blog about it. If you want to skate, do it. Age doesn't matter. Anyone speaking of being "too old" or "too young" is really a person saying, "I'm too scared to try, so I have to make up excuses."

CAN ONLINE & RETAIL STORES GIVE THIS DVD AWAY?

Absolutely! The DVD cannot be sold, but anyone can give it away for free. Skateshops may duplicate it and give complimentary copies to customers. You think customers love free stickers? Imagine how much they'll appreciate a free DVD! Doesn't matter if your skateshop is Internet-based or brick-and-mortar, you can give copies away. Skateparks and skatecamps can give copies away too! Doesn't matter if you copy 10 or 100 or 10,000. Hand out as many as you want! If seeking to provide customers with nice-looking DVDs, you can also download and print the DVD box cover and DVD label to present a slick, professional package.

WHO HELPED SPONSOR THIS VIDEO?

No one. I contacted dozens of skateboard organizations, manufacturers and skateboarding magazines when I was starting this project and they all ignored me. Most weren't even polite enough to respond with a rejection. You know the old saying, "If you want anything done right, you have to do it yourself." The ONLY organizations who responded and showed any support were:

I totally respect those supporters more than ever, because they are run by people who actually care about skateboarding and show politeness and courtesy to the skateboarding community.

CAN YOU SEND OUR SKATESHOP/SKATEPARK FREE DVDs?

No. Sorry. I invested my own money into producing this video for fun. No help. No sponsors. I can't afford to give away free copies forever to everybody who asks. Download a free copy. After you have a solitary copy, you may continue to duplicate as many copies as you need, for as long as you want. This thing cost me thousands of dollars to produce, and I made it purely out of a love of skating. If I spent thousands to make it, surely your skateshop or skatepark can spend a couple hundred bucks to run off a bunch of copies. Don't ask me to send you free DVDs. That's rude.

CAN I BUY MORE THAN ONE COPY?

Yes. But please don't. You are legally allowed to copy the DVD. Once you have a single copy, it will cost you far less money to copy them yourself. Ordering multiple copies from us is too expensive. Don't waste your money. Download a free copy. If the free download doesn't work, just buy one DVD, then duplicate it all you want. Think of it like an Everlasting Gobstopper, "One is enough for anybody."

HOW DO I DUPLICATE THE DVD?

You can click here for instructions on a Macintosh computer to duplicate the DVD.

You can click here for instructions on a Windows computer to duplicate the DVD.

Note the disc DOES NOT have any form of "copyguard" or "Macrovision" or other copy-prevention technology on it. The DVD has been designed and engineered to be easily duplicated.

WHAT IF MY COMPUTER DOESN'T HAVE A DVD RECORDER?

Ask a friend to copy it. You can also buy a DVD-R drive for your computer. Did you know exceptional DVD-R drives are available for as little as $50.00? There is no reason for your computer to be without one.

DOES THE DVD ONLY COME IN NTSC FORMAT?

Yes. Unfortunately, you can't get it in formats like PAL or SEACAM or any of the other television formats. I've never made any of those conversions.

However, some people in non-NTSC countries have simply ordered the NTSC version and just played it on their computers instead of a television.

CAN IT BE COPIED ON A SINGLE-LAYER 4.7GB DVD?

Yes. We kept the technology on the lowest-common-denominator, so anyone can copy it, with any style of recordable DVD, with no hassles. You can use single-layer or dual-layer or DVD-R or DVD+R or DVD-RW. Whatever you want. It records onto everything.

WHY HAVE DIFFERENT DOWNLOADS FOR MAC & PC?

Initially, I split the free downloadable DVD into 3 segmented .ZIP files. They worked great on Windows machines. Unfortunately, on a Macintosh, no matter what version of StuffIt or MacZip I tried, the .ZIP files would never stitch back together without errors.

When I divided the DVD into StuffIt files, they reassembled on a Macintosh with no problems.

Hence, I provided 2 different downloads - one set of StuffIt files for Macintosh systems and one set of .ZIP files for Windows systems.

HOW CAN I MAKE A NICE DVD COVER?

Click here to download a .ZIP file containing a high-resolution copy of the DVD box cover and the label. You can print them out on your home printer and make your duplicate DVDs look nice and professional. Those image files should also be found on the DVD itself.

DO I HAVE TO USE YOUR DVD COVER?

Absolutely not! For example, if you run a skateshop and you want to brand the DVD with your skateshop logo and offer it as a free promotional item to new customers, please feel free to do so! Design your own DVD cover with your skateshop logo and start handing them out! Or make a custom cover to promote your skatepark! You are totally welcome to do that.

CAN I USE CLIPS IN A COMMERCIAL/FOR-PROFIT VIDEO?

No way! This video is free, but it is NOT "public domain" and is still copyrighted. No. You can't recut it. You can't reedit it. You can't use clips in any commercial projects. You can't use clips to promote commercial projects or businesses. That is copyright infringement and is illegal, really rude, lame and not remotely cool. Don't do that.

CAN I BUY THIS VIDEO ANYWHERE ELSE?

No! Again, this video is FREE and can not be sold. If you find anyone, anywhere selling this video - online or at a skateshop or anyplace other than the links provided on this page - they are ripping you off and breaking the law and they can be brought up on charges for theft. This video is copyrighted and MAY NOT BE SOLD by anyone. People can give it away as part of a promotional gift, but it may never be sold except here at this link.

CAN I USE CLIPS IN A SCHOOL PROJECT?

Yes. No problem. Totally cool. Please do. Any distribution which is non-profit and free is fine.

CAN I POST/UPLOAD CLIPS ONLINE?

Yes. No problem. Totally cool. Please do. Any distribution which is non-profit and free is fine. In fact, some people have already done that and uploaded clips to YouTube. There is no problem with doing that. You can post as much of the video online as you want. You can post the whole thing if you feel like it!

HOW CAN I MAKE A HUNDRED COPIES (OR MORE)?

When requiring a large number of copies (for example, if you run a skatecamp or a skateshop), we recommend mass-producing them using a DVD duplication company. In the past, we used DiscMakers and they do an excellent job. Search online and you can find numerous companies doing such work. You can click here to download a printable DVD cover then mail your DVD to the duplication company. They can quickly replicate huge quantities at reasonable prices (typically around $300.00 for 100 copies including boxes and printed covers).

DO YOU HAVE ANY OTHER SKATE VIDEOS?

Yes! In addition to this project, I created an ongoing video series called Skateboarding California which features even more videos.

There are no plans to make new DVD projects. However, you never know. This one was a lot of fun to create. So, maybe another DVD will be made eventually. Time will tell.

We have added some "appendices" on our YouTube channel. These videos are NOT on the DVD, but you can watch them online. So, far, the additional videos are:
Learn To Skateboard A Pool (Part 1 of 2)
Learn To Skateboard A Pool (Part 2 of 2)

DO YOU HAVE A PRESS RELEASE?

Sure do. Click here to download the official press release in various formats.

WHO DOES THE OPENING SONG?

The very cool opening song of the video is called "If Ozzy Was My Dad (That Would Rock)" by Danny Blitz. Look him up online and check out more of his music. Danny is awesome.

WOULD THESE VIDEOS BE AVAILABLE IN WAL-MART STORES?

No. (Yes, someone actually sent this as a real question... I swear I can't make this stuff up.)

WHAT IS UP WITH THE END OF THE DVD?

Go watch the end of Ferris Bueller's Day Off (after the credits) and you'll get the joke . . .

TECHNICAL SPECIFICATIONS
110 Minutes
NTSC Color (Standard Definition - 720x480)
1.85:1 Anamorphic Widescreen
All Regions
Dolby Digital 4.0 Surround Sound
No Copyguard or Macrovision or Copy-Prevention
English Audio Track Only
No subtitles
Made 100% in the USA
DVD COLOPHON
MAIN UNIT CAMERA:
JVC Everio GZ-MG555 in 16:9 @ 8Mbps (VBR)
B-ROLL CAMERA:
JVC Everio GZ-MG500 in 16:9 @ 4.2Mbps (VBR)
B-ROLL RECORDING MEDIUM:
SanDisk 4GB Extreme III Compact Flash Card

EDITING SOFTWARE:
Final Cut Pro HD 4.5
QuickTime 7.0.2
MASTERING SOFTWARE:
DVD Studio Pro 3.0
VIDEO EDITING HARDWARE:
Apple Macintosh G4 Dual 500MHz PowerPC Processor
OPERATING SYSTEM:
Apple Macintosh OSX 10.3.9
MPEG CONVERSION SOFTWARE:
MPEG Streamclip 1.7
AUDIO GEAR:
Azden WM-PRO Wireless Lavalier Transmitters (Channel 169.445 & 170.245)
Azden WR-PRO Wireless Recievers (Channel 169.445 & 170.245)
Azden CAM-3 Audio Mixer
TESTIMONIALS
"We ordered your video for our 8 year old son and 6 year old daughter who were receiving their first skateboards for Christmas. They love the video and so did we! It was easy for them to understand and fun to watch! Thanks SO MUCH!"
- Cass
Lehi, UT
"Thanks for the DVD. It's good. It is helping our 7 year old learn the basics right now."
- Kevin
Wellingborough, United Kingdom
"My husband (and I) have 3 carveboards and love them but are over-40 beginners, desperately in need of instruction! (ouch - yes, pretty funny for the experienced folks to witness, oh heck, I even caught the mailman laughing at me!) Our kids 9 and 11 have a blast too. The video helped a lot with some of the basics. Though the carve boards can't do a lot of what a regular skate board can (dropping in, etc.) it is good to see the basics. My youngest has a cheap regular skateboard and now enjoys trying a few of the techniques on that. Thank you for putting it all together. We really appreciated finding it!"
- Kathleen
Columbia, MD
"For my purposes, which is for my 6 (soon to be 7) year old and her friends, your video was too technical. However, for me it was very educational, so I'm glad that I have it. Thank you!"
- Coco
New York, NY
"I found the DVD very informative and also fun to watch. I am going to share it with my nephew since he wants to start riding. Thanks for a fun video."
- Mike
Kingsland, GA
"I've always been intrigued by how-to skate vids because most of them suck. Yours is a gem among a lot of awful attempts and I hope it does well for you!"
- Pete
North Chatham, MA
"I LOVED the video it helped me out so much. Oh, and I would also like to ask if ya'll have any videos on how to do ollie and other tricks."
- Omar
Houston, TX
"I ordered the DVD for my 11 year old daughter. My daughter wanted a "good" board; up till now she's had a "kids" board, more like a toy. My daughter really enjoyed the DVD. I watched it as well, and we both learned a few things, such as the difference between the types of boards and differences in wheels. It was informative and well worth the price!"
- Nancy
Medford, NJ
"Can not wait to show this video to my 10 year old stepdaughter; she saw a picture of me when I was 16 years old (I'm 41 now) skateboarding and now we are both trying to skateboard together. I am glad she rekindled that desire of skateboarding once again. I am having so much fun."
- Joe
Saint Cloud, FL
"Thanks for making the video available. I also started skating in the eighties and can honestly say that I would have gotten a lot further and had a lot more fun if I had something like this to watch when I was starting out."
- Gary
Middleton, WI
"I just watched the video yesterday and loved it! It answered SO many of my questions and took the fear out of not knowing what to do. My name is Lisa. I am 39 and live in Illinois. I have always wanted to learn how to ride a skateboard and decided now was as good of a time as any. I went to your website and watched the clips and thought they were great. So I ordered it. It answered so many of my questions like where to place your feet on the board and which foot should go in front (I am goofy footed I found out). I loved how the exercises started in the grass and eventually moved to the street. That makes so much sense. Truly everything on the video was perfect for a beginner. I feel prepared to try now. I have a 10 year old daughter who is an X-game type girl. Everything comes so naturally to her: skateboarding, rollerblading, jumping ramps with her bike. She's a bit embarrassed about my obsession but I think it is something we can do together. She really wants to go to a skateboard park but won't go alone. Maybe once I practice we can go as newbies together. Thanks so much for making the video. I will recommend it to everyone I know looking to learn. I am hoping to inspire some of my friends as well. When I found www.skateboardmom.com I knew I wasn't the only mom my age riding a skateboard. That was inspiring, too! I'll keep you posted on my progress and thanks again for making an awesome and extremely helpful video!"
- Lisa
Sugar Grove, IL
"Just wanted to drop you a line and say how much my son and I enjoyed your DVD. (He) is eleven and has been skating almost three years. Your DVD came along at just the right time. As you know, good video instruction is next to non-existent out there. Overall, the DVD is absolutely incredible. Once again, thank you for an outstanding skateboard instructional video. If just one kid saves his bones because he learned how to fall from your video, you've done a wonderful thing."
- Bud
Sacramento, CA
"First off, I just wanted to say kudos to you for this video teaching project and the unconventional distribution approach. My 8-year old niece recently expressed an interest in learning to skateboard, so my plan is to watch the video with her when I visit next week (she lives in MI, I'm in northern CA) and then take her out on a board and see if she'll get into it!"
- Janette
Northern, CA
"Thanks to your awesome DVD, I've mastered the basics of riding my board! I now have the courage to do all kinds of things that I would never of thought of attempting before watching this! Thanks again!"
- Matt
Hampshire, United Kingdom
"Eric, Thank you for your instructional videos and sharing your experiences in the bowl! I just ordered your DVD. I was so happy that you mentioned examples of older people learning to skate. My friend and I know how to get around on a longboard but we are new to riding the bowl. We just practicing fakies and 180s now so we have a long way to go. Lloyd Khan is such an inspiring example. In fact, I think I saw him one night when I was jogging in NY and I thought to myself, wow I hope I still do that when I'm his age. Well wish my friend and me luck in our skatepark adventures. I am 26 and she is 40, so we felt a bit silly but we are surfers and love the gracefulness of vert skating!!!"
- Samantha
New York, New York
"The video really gave me some confidence and taught me all the skating terminology I was missing from the last 35 years. I get to spend one more weekend with my nephew before he goes back to Montana and I can't wait to watch the video with him and send it home with him."
- Scott
Chandler, AZ
"LEARN TO RIDE A SKATEBOARD was a GREAT video! It's aimed to teach just about anyone who is getting on a board for the first time! They go into such good detail and take it nice and slow. I bought this video for my daughter, who just turned 9. She's been wanting a skateboard for a while... I finally gave in. I have absolutely NO experience what so ever!! So I wanted something that would help her along, teach her the basics, then I came across this video! It taught her everything she needed to know to get started. She even learned a few little tricks! We both LOVE it!"
- Jnetty
Amazon.com
"I've been back on the board now for a year after a thirty year break. Your video fast tracked me back in the bowl. Saturday I dropped in and carved. What a rush! Any way THANKS... YOU ROCK!! Now to teach my 3 and 5 year old grandsons how to skate using your videos... To be continued..."
- Edward
Wylie, AZ
"Just found your DVD and I wanted to say I like the pace and detail. I am also glad to see it coming from an older skateboarder. I am an on again, off again skateboarder and I still skate at the age of 41. I am going to give this DVD to my 9 year old daughter. Nice job."
- Rob
Toledo, OH
"Just saw your videos. Thanks alot for your free video LEARN TO RIDE A SKATEBOARD. Really helps. Never give up the skate mate!"
- Yanno
Jakarta, Indonesia
"I am going to show my kids your videos and if I had watched this in 1985 I would have been so much better... You have truly inspired me. Great attitude and long may you reign as skateboard champion and my new skate hero - lets face it, my old skate hero never gave me anything for free - your DVD is superb. So thank you for your videos. I watched all of them - perfectly toned and paced - the essential information for the keen boarder. Can't say thank you enough."
- Simon
London, England
"When I bought my son his first skateboard at age four, I knew nothing about skateboarding. Turning to the Internet for guidance, I found several of your videos, which I studied diligently as I developed a plan to support William in his endeavor. I hope we meet in person one day so that William and I can thank you properly for your guidance and inspiration."
- Richard
Peabody, MA
"Thanks for posting all this material free of charge on the web. I have found this very useful and showed it to my 6 year old son who felt inspired (especially for the safety tips). I am 42 and kind of feel like skating too."
- Alex
Coppet, Switzerland
"Good series of videos you've got up there on YouTube. Love the positive vibe. I started skating in the late 70's and I'm still at it, well, after some gaps of not skating for whatever reason. 45 and still carving the park."
- Robb
San Luis Obispo, CA
"I'm a 31 years old guy from Denmark, and I wanted to learn skating for years, but I never tried. I skate on rollerblades, but I never tried skateboard. I did not think Icould, there was so many things about skating I did not know - what the parts of the skateboard was called, or which end was the front, and so on. I only ever stood on a board once, for 1 minute. I fell hard. :-) Today I went out with a board I bought used, and just did as in your videos, started on grass, got the feel of it, then on flat ground and just felt it, then I moved and before I knew it, I was skating, turning frontside and backside, although slow, but securely. Thank you for this video series, you gave me the courage and knowledge to go for something I been wanting to do for many years but did not know how to start."
- Kenneth
Denmark
DOWNLOADS